Southern Nevada offers a diverse outdoors landscape where both adventure and social distancing await. 
Beyond the neon lights of Las Vegas, a diverse landscape that offers both adventure and social distancing awaits. From hiking in picturesque canyons and kayaking down rivers to zooming though the desert in an ATV, the options and excitement are endless.   
---
Red Rock Canyon National Conservation Area offers something for every outdoor enthusiast. With 2,000 climbing routes, Red Rock Canyon is known as one of the premier climbing destinations in the United States. This natural conservation area also offers a 13-mile scenic drive, picnic areas, cycling, hiking and 26 different hikes and trails. More than 60 miles of maintained trails wind through Mount Charleston in the scenic Humboldt-Toiyabe National Forest just north of Las Vegas. 
Most trails start at over 6,000 ft. in elevation, with some culminating at the 11,916 ft. Charleston Peak. Spanning 40,000 acres, Valley of Fire State Park is world-renowned for its bright red Aztec sandstone and petrified trees and petroglyphs dating back more than 2,000 years. Hikers visiting Nevada's first state park can choose from 11 trails that range in length and difficulty, but all offer spectacular views. Find excitement – and a little Wild West history – underground. The Eldorado Canyon Mine Tour is a guided adventure into the Techatticup Mine, which operated from 1861 to 1942 and is the richest and oldest gold mine in Southern Nevada.  Click Here to Book Tour Now!
For visitors looking to experience the great outdoors from the comfort of a vehicle, Pink Jeep Tours allow passengers to experience an off-road adventure to a variety of destinations, including Valley of Fire, Grand Canyon, Death Valley and Hoover Dam. With a large fleet of custom off-road vehicles including dune buggies, ATVs and UTVs, Sun Buggy Fun Rentals offers guided and non-guided tour options, as well as a high-speed chases spanning more than 15,000 acres of desert landscape. Just minutes from the Strip, a different kind of playground awaits. Dig This Las Vegas is a full-size bulldozer and excavator site that allows customers to take control of heavy equipment and move mountains of dirt, stack monster rocks, dig huge holes, crush cars, and much more.  Click here to Book Tour Now!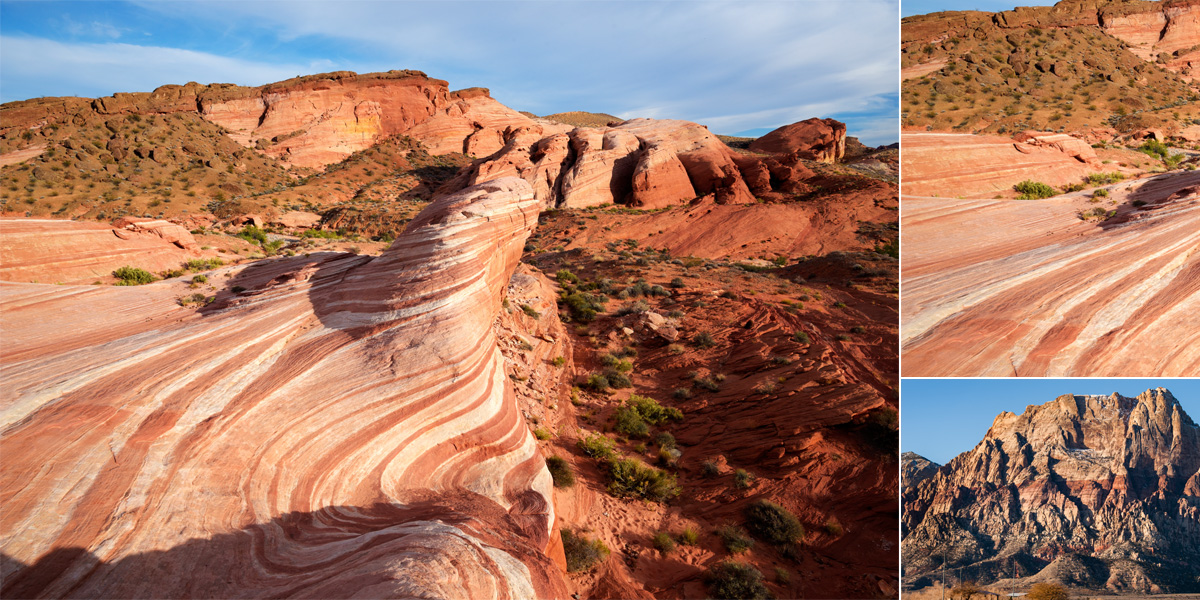 The Instagrammable Outdoors
A creative expression of human presence in the desert, Seven Magic Mountains punctuates the Mojave with a poetic burst of form and color.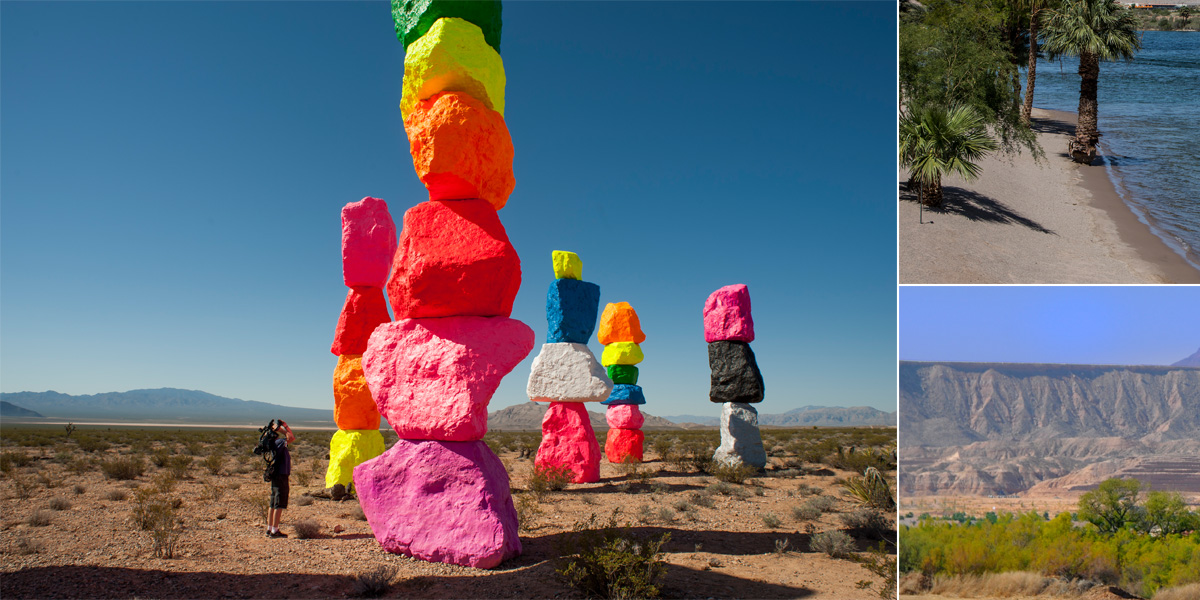 Located just ten miles south of Las Vegas off of Interstate 15, Seven Magic Mountains is a public art installation comprised of seven towers of colorful, stacked boulders standing more than thirty feet high From the road to the rails, Rail Explorers in Boulder City offers three exciting tours – a 4-mile daytime ride, a sunset tour, and an evening lantern ride - that combines pedal-powered explorers and a ride on an historic train. Go "Fore" It - Get into the swing of things and hit the green at any (or all) of these unique Vegas golf courses.
Originally built in 2005 on the footprint of the historic Desert Inn Hotel course, the Tom Fazio-designed Wynn Golf Club was renovated and reopened in fall 2019 with eight new and 10 revamped holes. Redesigned amenities also include a new 6,500-square-foot practice putting green and netted full-swing warm-up area. For golfers looking for dramatic elevation changes, and stunning views of desert landscape, the renowned Wolf Creek Golf Club in Mesquite is a bucket list experience. An hour and a half north of Las Vegas, this challenging 18-hole course offers unique viewpoints of green fairways meandering through red rock canyons.  The Sky's the Limit- Take to the skies and get a bird's eye view of Southern Nevada from a helicopter or zipline. Maverick Helicopters, Sundance Helicopters and Papillon offer high-flying adventure featuring breathtaking views of the Strip, the Grand Canyon, Red Rock and Hoover Dam. Tours span from 15-minute flights over the Las Vegas Strip, to half and full-day adventures to the scenic landmarks of the Southwest.
Those looking for an outdoor adventure along the Strip can strap into a harness and go ziplining. Located 12 stories above the LINQ Promenade + Experience, Fly LINQ Zipline gives guests the option of taking off from a seated, lie-flat or backwards experience. Adding even more fun, up to 10 people can fly at the same time. For a uniquely Downtown Las Vegas experience, thrill seekers can experience Slotzilla – the high-flying zipline and zoomline experience – with views of Fremont Street below and the largest video screen in the world, Viva Vision, playing overhead. CREDIT LVCA
Travel expert and writer Terry Kniess has seen many parts beyond Las Vegas and tells all with his experience at the -Valley of Fire. The Valley of Fire Location is located on I-15 North to exit 75 and follow the signs. Check out nearly any review of Valley of Fire State Park and you'll see superlatives like spectacular, wonderful, breath-taking, beautiful, and the list goes on. Educational should also be on that list. It's a fun family education at the Valley of Fire. I could list all of the places there but there are several things to visit where nature has created visual wonders.   Another great wonder just beyond the strip is Red Rock.  There are plenty of hiking options for any style of hiker and it's just minutes from the strip! Book a tour here
The Bee Hives – Named after their likeness, these are located at the west end of the park. The education here is seeing how the combination of wind and time has carved away at the rocks surfaces. This abrasive process is known as deflation. Do I really need to say 'photo op' here? Touch them. Stand by them. Oh, at the same time wonder about them. Wonder how many thousands upon thousands of years it took for those beautiful red works of nature's art to acquire their amazing look.
I don't know of a single person that has seen petrified wood and not be fascinated by it. Valley of Fire has more than just petrified wood, which is really a fossil, Valley of Fire offers up petrified logs. You read that correctly, LOGS. The education here is actually seeing the minerals that replaced the organic matter of the wood. These one-time wooden logs are now rock-like but maintain somewhat of wood appearance. A little further up the road and to the left at V.O.F. is a lesson in western history.
Here's the fact about those rock basins at Mouse's Tank. The location is unique and the rock 'tanks' are very shaded. The water that gets into those dish-type rocks will stay there for months on end. In the mid-1930s, shortly after Valley of Fire became a state park, the Civilian Conservation Corps built 'The Cabins'. They are exactly what they are called. Built out of sandstone these small rock structures were built to protect travelers and/or rangers from the elements. The cabins now stand as a piece of preserved V.O.F. history. CREDIT - Terry Kniess 
Please note: All products featured in this article are selected by publisher but are sold by outside retailer and it's links. VSA may earn a commission through it's affiliates.